Over 300 HR leaders attended meQuilibrium's second annual conference, "Resilience 2021". The 3-day conference was a much-anticipated opportunity to learn the science of success from organizational resilience specialists on building strategies and leadership to empower and inspire employees.
Many attendees were driven by the elephant in the room: they had all been forced over the last 16 months to adapt to the biggest business disruption in a generation. Nearly 40% of employees may be dealing with symptoms that impair productivity.
Resilience 2021 debunked a common myth about adapting to the now to prepare for the future: we survived, so, we're resilient, right? According to data and a host of top HR leaders and organizational resilience experts who shared powerful insights, that's not true.
Being adaptive in order to be agile is something every business needs right now, but it's not that easy. Jan Bruce, meQuilibrium co-founder and CEO, summed it up with this poignant observation during her keynote presentation on organizational resilience, "Developing organizational resilience is easy to say but difficult to deliver. It needs strategic definition and a systematic approach to implementation."
Former U.S. Rep. Patrick J. Kennedy, founder of the Kennedy Forum, author of the New York Times bestseller A Common Struggle: A Personal Journey Through the Past and Future of Mental Illness and Addiction shared personal insights on how critical resilience is to mental health and well-being. "meQuilibrium is helping people understand mental health and wellness is on a spectrum. With meQuilibrium working upstream we can see signals of who is in trouble and guide people to treatment when they're at risk, rather than when they're beyond the point of needing it."
Transforming how companies engage with their people through a groundbreaking combination of the right tools and the right human-focused mindset was a common theme among leading expert presenters. Jill Popelka, President of SAP SuccessFactors, offered astute observations about prioritizing employee well-being through Human Experience Management (HXM)—which shifts from focusing on HR processes to putting employees and their experiences first. "Resilience is foundational to our whole self-model at SuccessFactors, the key to successful employee experience management."
During the opening keynote, Andrew Shatté, PhD, Chief Knowledge Officer and Co-founder of meQuilibrium pointed out the light at the end of the tunnel, "We've been put through the wringer. The pandemic put a spotlight on resilience." According to Adam Perlman, M.D., Chief Medical Officer and Co-founder of meQuilibrium, "It didn't change the trajectory of change. It pinballed us through change, it was already there in 2017-18. The pure pace of transformational change was the greatest threat, that that was way before the pandemic hit."
Operating in crisis mode while making quick pivots, learning new policies and processes on the fly while navigating a growing societal unrest isn't sustainable. Jennifer Moss, globally recognized expert on burnout and author of the forthcoming book, The Burnout Epidemic, being published by Harvard Business Press, said, "There needs to be two separate approaches to burnout: burnout prevention strategies and wellness/well-being strategies" to optimize outcomes. Moss laid out hard-hitting facts including the fact that the average person spends up to 90,000 hours of work over their lifetime. According to Moss, H.E.R.O.G.E.N., a formula that models the behaviors of happy, healthy, hard-working people is an impactful strategy.
Comments by David Rodriguez, PhD, Global CHRO of Marriott International, suggested organizations think about resilience in a more holistic way. He revealed the cultural commitment behind the organizational approach to inspiring every employee. "Building resilience isn't just about the business. The first foundation of a healthy business is healthy human beings. It's not just learning to survive, resilience is helping people to adapt to change, address change in a positive and constructive way, and to have a growth mindset."
Leading organizations were also presented Resilience 2021 awards for their work in driving positive impacts on workforce emotional well-being including:
Jonathan Gelfand, MPH, MBA, Global Well-being and Health Promotion Manager at IBM Corporation, was named "Resilience Champion of the Year" for leading their global workforce well-being strategy, collaborating with the cross functional global team to positively impact workplace culture and advance the psychosocial health and well-being of IBMers.
SAIF "Best Launch – Mid-Market Company" for helping their managers and employees navigate uncertain times.
GE "Best Launch – Enterprise Company" for their thoughtful, integrated approach and leveraging best practices, including executive sponsorship, webinars and resilience training for HR groups and champions.
Centura Health "Best Grassroots Success" for their strategic boots on the ground efforts to drive participation in meQ's resilience skill-building program among their 20,000 associates.
JPMorgan Chase & Co. "Best Enterprise Strategy" for a stellar job in embedding resilience across the HR ecosystem—impacting individuals, teams, and the firm.
Whether it relates to Talent & Learning, Health & Benefits, or your entire organization, resilience can power up your entire organization and turn barriers into opportunities. meQuilibrium resilience specialists are here to help you change your outcomes. The best time to prepare for the future is now.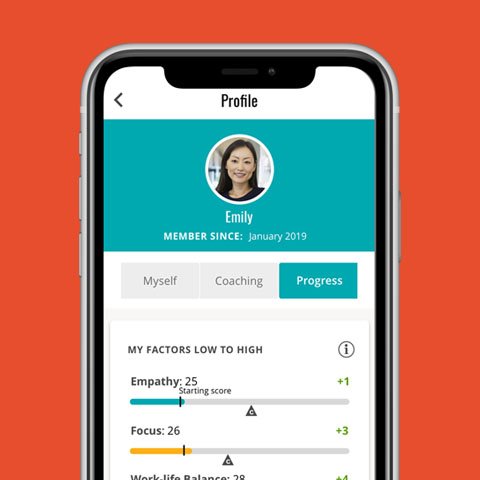 See How It Works
Learn how to gain the confidence your organization needs to navigate transformation and take on any kind of change the world throws your way.
Let's Talk